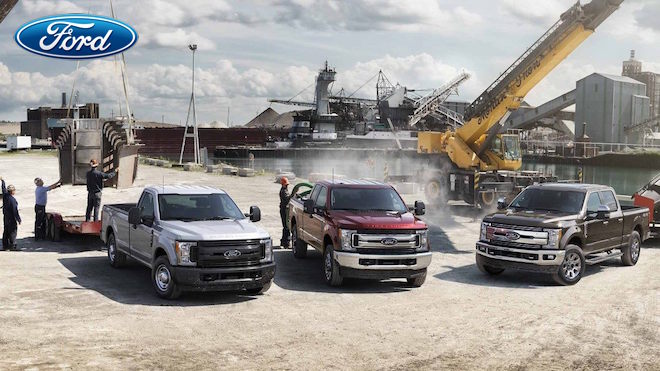 Yarmon Ford
The Toughest Truck Around
When your job depends on your truck being able to handle heavy loads and rough terrain there is only one truck you should consider, the Ford F-250 Super Duty in St Cloud, MN. The 2018 F-250 continues to pull ahead in the large truck arena with its upgrades and towing power. The benefit of the F-250 is its ease of drive still makes this Super Duty a capable personal vehicle.
The Iron Man of Trucks
If you have ever watched an Ironman challenge you know its a completion of the strongest people. The Ford Super Duty is hands down the winner of the strongest towing truck, starting with a 6.2-liter V-8 with 430 lb-ft, you can tow up to 15,000 lb. Still not enough? Not to worry upgrade your F-250 to a 6.7-liter turbo-diesel V-8 with 925 lb-ft and get a max tow rating of 18,000 lb. This truck is a beast! Nothing can hold it back.
More Than Just Towing
All boasting aside, there's so much more to the Ford F-250 then just is amazing ability to haul almost anything you want. The F-250 has also slimmed down its body weight by incorporating an aluminum body, keeping the strength and integrity while dropping almost 300 lbs. The F-250 has also seen a number of improvements to a new Fully Boxed steal frame stronger suspension and an upgraded rear axle.
Here in St. Cloud MN we are no strangers to the ever-changing weather. The road conditions can change drastically from day to day so you need a truck that can keep its cool while handling a large load and epic rain or snow storms. The 2018 Ford F-250 comes with AdvanceTrac with Roll Stability Control. AdvanceTrac is a combination system of Traction control and Electronic Stability Control, they help you keep from sliding and slippage of the wheels in less than optimal driving conditions. The Roll Stability Control activates if a rollover threatens to occur, the system intervenes by assisting the driver in minimizing the rollover risk by automatically slowing vehicle speed. When you add these systems to the Trailer Sway Control, you're ready to take on any road condition.
Personal Vehicle
The wonderful part of the F-250 model is its ability to also be a personal and work truck. It's just the right size to park in your driveway as well as early maneuver around other vehicles in and around the city. However, if you are uneasy about backing in and around traffic Ford added 7 cameras. That's a 180 rearview and 360 birds-eye views of your surroundings. The cab's in both the SuperCab and Crew Cab models have a rear flat load floor, stow and stash equipment quickly and easily for more cargo or people room. We would also recommend the Sync 3 entertainment system. Pair your smartphone to make calls or stream music. The Sync3 also comes with navigation, find a restaurant or a new route to your favorite brewery.
The Yarmon Reason
Whether you are looking for a truck for work or play the Ford F-250 is a great choice to help you navigate the roads ahead. Yarmon Ford is a homegrown dealer here to make acquiring your next Ford a breeze. Our knowledgeable staff is here to answer any questions you may have about our Fords or the deals happening right now. Call or drop in to get a great deal on a New Ford F-250.